Jeanerette has a rich colorful history dating back to the American Indians. Jeanerette was part of a borderland between two main Indian groups, the Attakapas and Chitimacha.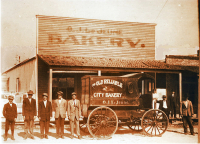 According to the American State papers, the land on which Jeanerette now lies was originally procured from the Spanish government by Pierre Zerangue. Zerangue received an "order of survey and settlement" from Spain for 1052 acres. Under Spanish law, if a man occupied a piece of property for two years he could apply for title to the land under an "order of survey settlement." A similar land procurement was made by three other parties but the properties were united by Nicholas Provost.
Born about 1743 in Kaskashia, Illinois territory, Provost secured the property from the present day Experimental farm to the St. Mary Parish line. He engaged in sugar cultivation until his death in 1816.
John W. Jeanerette came to Teche country from South Carolina in the 1820's. When he first arrived he worked as a tutor at one of the large plantations in the area. A year later, he opened a store and a saloon. In 1830 Jeanerette purchased the Pine Grove Plantation, known as Beau Pre, located just north of the present-day city of Jeanerette. He offered a portion of his house to be used as a mail depository for the local residents and was made postmaster on February 25, 1830.
For nearly 200 years, sugar production has been the financial backbone of Jeanerette. The city was incorporated in 1878 and Joseph E. Provost became the first mayor.